Four Seasons Residences – 98 San Jacinto #1302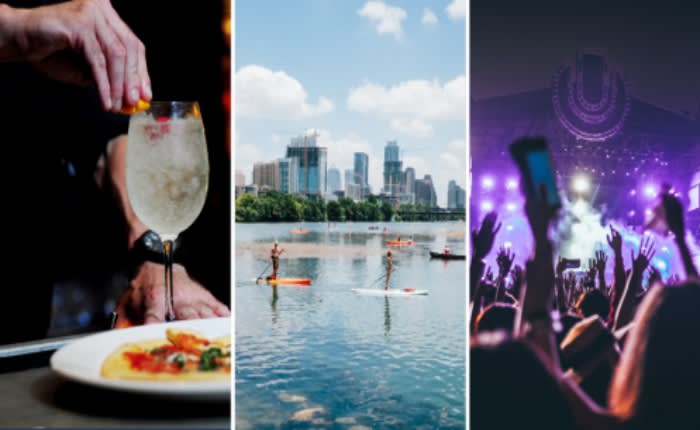 Life at the Four Seasons Residences provides an impeccable balance of elegance and the utmost discretion and privacy, all while being in the middle of the dynamic culture, renowned cuisine, vibrant entertainment, hip bars and music venues, trendy art galleries, and striking outdoor settings that downtown Austin affords you.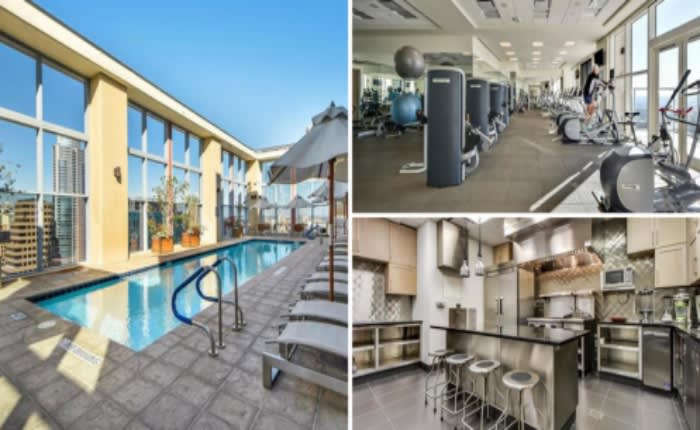 With amenities ranging from a rooftop pool, fitness center, housekeeping and unparalleled 24-hour concierge services to a la carte luxuries including babysitting, pet services and dry cleaning, living at the Four Seasons would be ideal for families, singles, couples and pet lovers.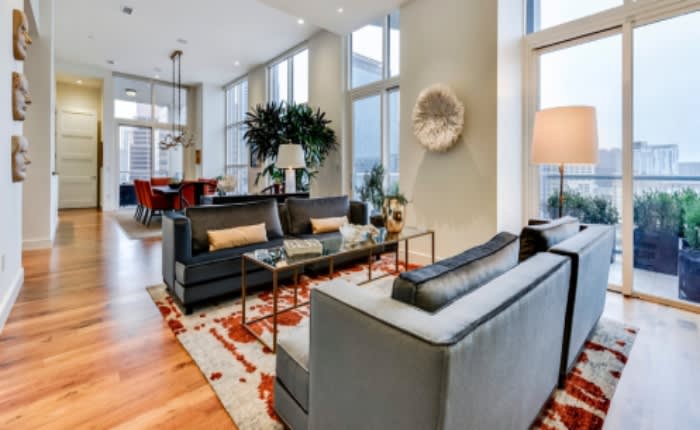 Located inside the Four Seasons Residences, luxury condominium #1302 is a unique opportunity to have expansive space at a penthouse-caliber. Approximate 13-foot high ceilings and windows can be found throughout the 3,876 square foot condo that features 2 bedrooms and three full and one partial bathroom. You'll find convenience and meticulous design details as you experience this showplace that is great for entertaining, yet comfortable and highly livable.

Below, we highlight specific areas of the home and how you will enjoy them while calling 98 San Jacinto Boulevard #1302 home!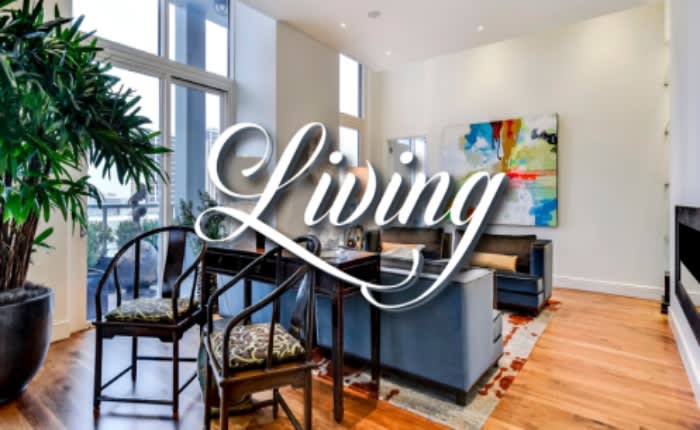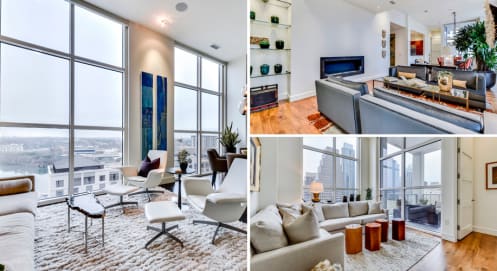 ​​​​​​​This versatile and adaptable floor plan boasts three separate spaces ideal for living rooms. We suggest reserving one as your spot to read and relax, another for family time, and the last for entertaining guests. A modern fireplace is situated across from a wall of windows in one sitting area, which adds even more ambiance to the space.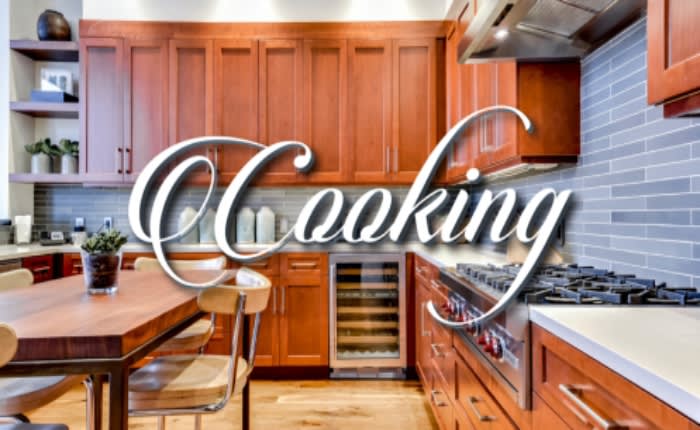 ​​​​​​​Featuring a true in-law plan, this condo includes two full kitchens. High-end finishes and appliances can be found in both spaces included gas ranges, built-in ovens, and sub-zero refrigerators to name a few. Design details vary between the two spaces however. One kitchen includes dark wood cabinetry and black (granite/marble) countertops while the other has a lighter color palette with cherry colored wood cabinets and light colored (granite/marble) countertops. A breakfast bar and open concept to living rooms round out the kitchen highlights.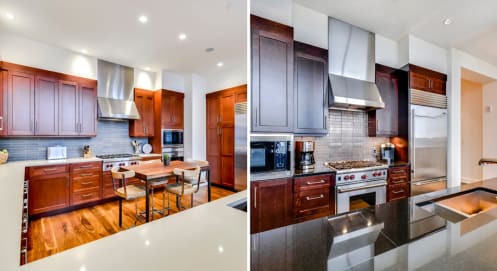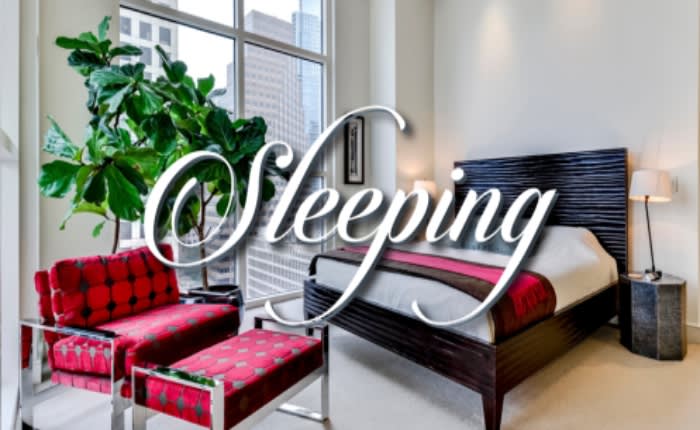 auto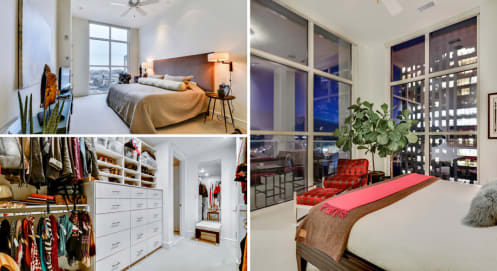 ​​​​​​​Currently, this luxury condo features 2 bedrooms, but with the adaptable floor plan, there is flexibility to add an additional bedroom. You'll have plenty of space to showcase and organize your wardrobe in the two walk-in closets. Lay your head to rest and rise in the morning with amazing views of downtown Austin from each bedroom. Each room can accommodates a king size bed with plenty of extra space for dressers, night stands, and sitting areas.

​​​​​​​With two master bedrooms comes two ensuite bathrooms. Walk-in showers and your very own sauna will help you relax after a long day, week, or fun-filled weekend enjoying the downtown amenities. A large soaking tub is featured in one of the bathrooms allowing you to step away from any worries you may have while taking some time for yourself. In addition to the spa bathrooms, three incredible patios let you step out for fresh air while taking in different views of Austin. They each provide their own take on the city and are spacious for plenty of outdoor seating.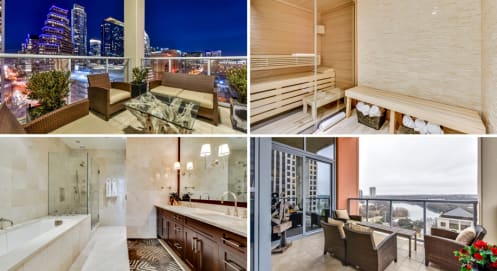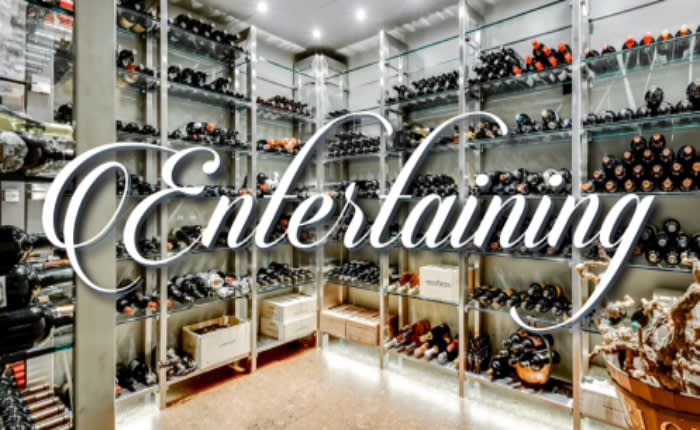 ​​​​​​​A breakfast bar and two dedicated dining spaces round out the accommodations within this luxury condominium. Your walk-in wine room will not only help keep a party going, but it's also a feature of this home that guests will remember and talk about!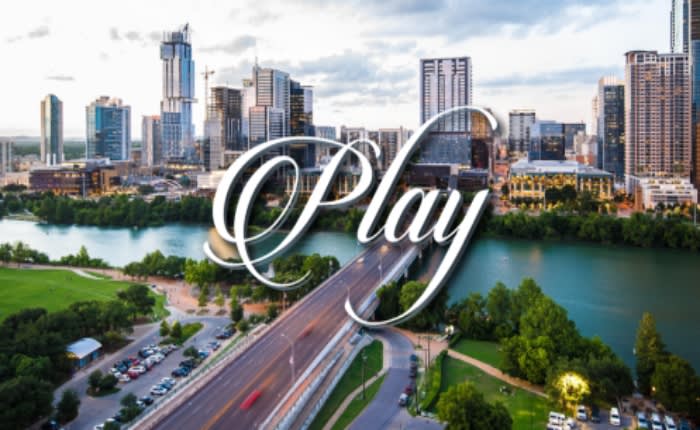 The staff is always available to assist owners with a variety of needs including travel reservations, restaurant reservations, valet parking, package delivery and pick up, or luggage pick up. Always discreet and mindful of the owners, the service at the Four Seasons Residences is unparalleled. We've curated a list of downtown Austin attractions that we highly recommend you enjoy while calling the Four Seasons Residences home.