Most people will need a mortgage to buy a home. That means that not only do you need to
shop for a home
, you need to shop for a home loan. But a survey of 2013 borrowers by the U.S. Consumer Financial Protection Bureau found that almost half of borrowers didn't shop around before settling on a mortgage.
They should. In fact, you may find more loans to choose from than you do houses.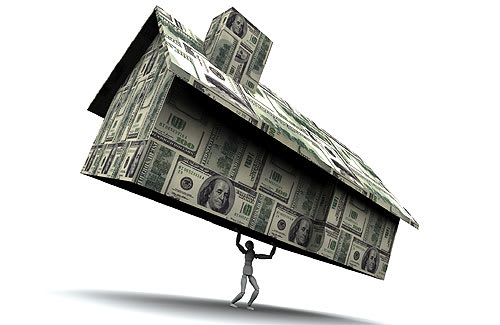 "Definitely shop around," says Valentin Saportas, CEO and co-founder of MortgageHippo, a Chicago-based online mortgage application service that links buyers with mortgage brokers. "Don't just go with the first option that you get. Being able to save even a little bit of money in your monthly payment definitely adds up."
You should start looking for a mortgage professional before searching for a house. You want to
make sure your credit is in orde
r because mistakes can take months to correct. You also want to know how much house you can afford. You can run calculations online, but a good mortgage professional will better help you determine which loan is the best fit for you.
Finding the best deal on a mortgage can be a challenge because fees and rates change daily, sometimes more than once a day.
Whether you'll get the best deal from going directly to a bank, a mortgage lender or a mortgage broker often depends on your situation, the mortgage pro handling your case and what's being offered at the time. That means talking to actual people on the phone or in person, not just filling out an online form.
"There's way too many variables in mortgage lending today to automate or streamline," says Casey Fleming, author of "The Loan Guide: How to Get the Best Possible Mortgage" and a mortgage broker in the San Francisco Bay Area. "The online piece is nothing but a lead generation tool, and they hand it off to a real mortgage lender. The money comes from the exact same place, and the same people are involved."
You can buy a home with as little as 3 percent down – and nothing down if you're a veteran. But if you put
less than 20 percent down
, you'll need private mortgage insurance (or the Federal Housing Administration equivalent) in most cases, which can add roughly $100 to a monthly payment on a $100,000 home.
To find a mortgage professional, start by asking friends, colleagues, relatives and your real estate agent. You might also ask any finance professionals you work with, such as accountants or financial advisors. If you're a member of a credit union, ask there. Some credit unions and local banks do their own mortgage lending and others contract with brokers. Call the banks where you have accounts.
In general, banks have the fewest options available because they offer only their own products, but they may be more flexible if they're lending their own money – and they may make a deal if you have substantial assets. "You could get a really good offer, but you have to dangle the assets," Fleming says.
Mortgage brokers offer the largest number of options, since they can shop your loan among many lenders. "If your loan can be done, a broker can find a place to do it," Fleming says. "My opinion is to go to a really honest broker. Without doubt, they are going to have access to better pricing than anyone else."
While the rates and fees offered by lenders are usually comparable, lenders that see a slowdown in business may offer better pricing, and a good broker will grab those deals.
The difficulty of the mortgage process, including the need to gather reams of paper documents, is one of the reasons for the growth of lending that occurs at least partly online. "Customer service doesn't just happen on the phone or in person," Saportas says. Once MortgageHippo links the borrower with a broker, the parties can decide how they want to communicate.
SoFi, a lender based in San Francisco, bills itself as the first lender to provide
prequalification with any device
, including a smartphone. "We believe that we are the only one able to offer a personalized quote within one minute on any device," says Dan Macklin, co-founder and vice president of business development. "That's proving popular with the younger generation." Humans in California also are available if you prefer a phone consultation. "We like to think it's automated but with a human touch when you need it," he says.
Here are 10 tips for getting the best mortgage deal:
Compare apples to apples. When you get quotes from companies, don't look at just the interest rate. Look at the rate and all the fees, including points, origination fees and any other fees charged by the lender. A "no-fee" loan just means the fees are included in the rates.
Ask to see the Good Faith Estimate worksheet, not just the GFE. Many people consider the current Good Faith Estimate, required by law, to be confusing, and it is being replaced August 1 with what consumer advocates hope will be a more useful document. Until then, ask for the complete worksheet, and make sure it itemizes all the fees.
Interview the actual person who will handle your loan. That could be a mortgage broker, a bank employee or a loan officer. Ask about experience and qualifications. Is the person licensed (required for brokers but not bank employees)? Does he or she belong to the National Association of Mortgage Professionals or your state's mortgage professional association? Ask for references and look at reviews online. "The company does not matter as much as the originator," Fleming says. "Even good companies hire really bad people."